Chapel Hill Historical Society
Preserving the history of Chapel Hill, Carrboro, and neighboring
communities in Orange County, for future generations.
The Chapel Hill Historical Society was founded in 1966 to research and document the history of Chapel Hill and the surrounding communities, to encourage and assist in the study of local history, and to provide public programs and publications related to the heritage and traditions of the area.
Help support our mission: Join or Renew Your Membership Today!
Around the Town Trivia Night at Epilogue – June 15th at 6:30pm
Join us for a night of fun and test your knowledge of Chapel Hill. Location: Epilogue's Prologue at 109 E. Franklin St.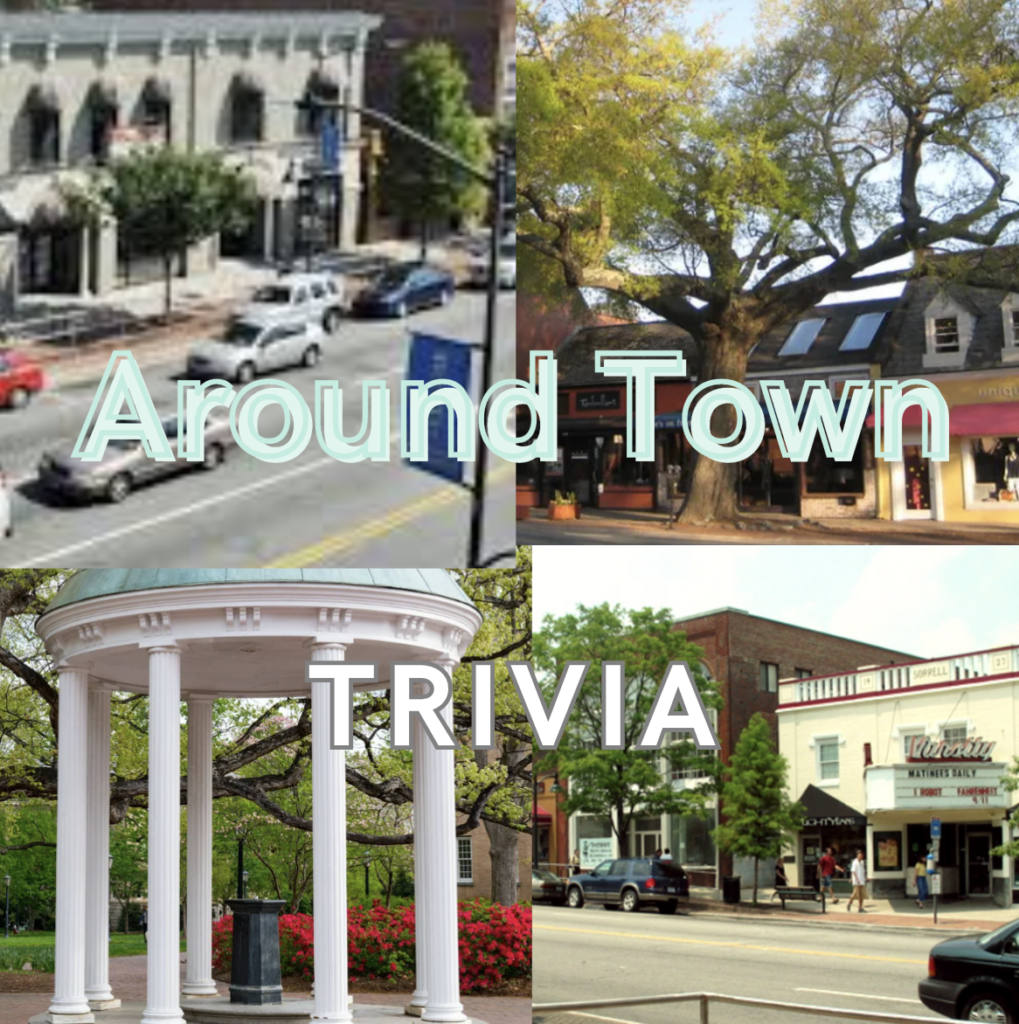 History of Hope Part 2 Exhibit Now Open!
Our new exhibit, A History of Hope, Part 2, Chapel Hill and UNC, 1930 – 1980, is open and ready for you at the Orange County Historical Museum!
Part 1 covered the very beginnings of Chapel Hill, the University, and our people from pre-1793 – 1928. Part 2 continues the story by exploring people and events that defined the decades from the 1930s through the 1970s in words, photos, videos and music. Some of the highlights of the exhibit include a World War II WAVES uniform, timeline of the Civil Rights Movement in Chapel Hill, and the number 1 hit song of 1974.
Hometown Ambassador Walking Tours of Downtown Chapel Hill
Learn more about our history and stories by signing up for one of these walking tours. The tours are free but require advance registration.
Click on this link to get more information and to register. https://heartofthehilltours.com/hometown-local-history-ambassadors-2/
Access to Collections and References
The Chapel Hill Historical Society is in a moment of transition. We are in the process of moving our collections into storage as the Chapel Hill Public Library requests that we vacate by the end of 2023. During this time and as we continue our search for a new permanent location, our collection will gradually be on the move and will require coordination for viewing. Please contact us via email (chhistoricalsociety@gmail.com) or our office phone (919-927-1793) if you need access to our collections and we will make arrangements for you to use them.
Support Us
Join the Historical Society today or buy our books!
Find out more about supporting us here.
Location
Business Office
109 N. Graham St., Suite 104
Chapel Hill, NC 27516
Collections & Reference Materials
100 Library Dr
Chapel Hill, NC 27514
Contact Us
Email
chhistoricalsociety@gmail.com
Phone
919-929-1793
Mail
Chapel Hill Historical Society
P.O. Box 9032
Chapel Hill, NC 27515